ABOUT CERCORD
Centre of Excellence for Root Crop Research and Development (CERCORD), Michael Okpara University of Agriculture, Umudike.
Following the establishment of 12 Centres of Excellence by Tertiary Education Fund in 2020 in the six geopolitical zones of the country, Michael Okpara University of Agriculture, Umudike was selected as one of the centres. The Michael Okpara University of Agriculture, Umudike Centre of Excellence in Root Crop Research and Development (CERCORD) commenced operation in July 26, 2021.
The objective of CERCORD is to strengthen human and material capacity for agricultural development especially as relates to root crop production and processing. The Centre is focused on research, teaching, training and product development which targets innovative emerging areas of need, industrial manpower demand and basic skill acquisition. The proposed action plans to achieve these objectives are divided into three broad activities: capacity building, research activities and product development in collaboration with the industry and other stakeholders in root crop production and processing.
The capacity building programme involves introducing new post-graduate curricula leading to Masters & Doctoral Degrees in specific areas of need, in-service training, short-term skill acquisition for industry stakeholders, specialized workshops and internships during post-graduate studies. The action plan for research programme consists of partnering with regional and international centres to conduct post-graduate students' research that are innovative and demand-driven which will lead to regional development. This is intended to forge closer relation with industry and stakeholders in Agriculture in order to respond to their developmental needs through demand-driven research projects.
The product development programme will focus on the commercialization of innovative research outputs that meet consumer needs and expectations in collaboration with industries and relevant stakeholders.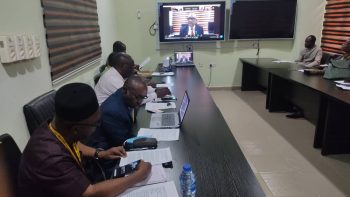 The M.Sc./PhD. Degrees started with 4 programmes namely:
Farm mechanization and automation
Root and tuber Agronomy
Food Processing and Postharvest technology
Agriprenuership And Sustainable Technology Transfer
The philosophy that triggered the establishment of Centre of Excellence in Root Crop Research and Development (CERCORD) was the dire need to produce a new generation of young Scientists and cutting-edge research, to produce commercial products that are based on innovative research outputs and to generate manpower capable of servicing the industrial base of Nigeria and West Africa Sub region for sustainable food security.
The skilled manpower to be generated will be adequately equipped with comprehensive information required for engaging in practical and intensive root crop production. They are also expected to develop and maintain strong links with relevant agro-based industries; providing much needed practical on farm solution to identified simple and complex issues through targeted demand-driven end user oriented multidisciplinary research.
The CERCORD training Programme are accomplished through classroom instructions, laboratory practicals, computer appreciation and information technology, on-farm demonstration, internship period to targeted farms/industries, excursion to National and regional operative farms/firms, critical case studies, individual and group seminars, personality lectures, training and international trade practice.
CERCORD aims to meet the challenges of producing new generation of young scientists, cutting-edge research outcomes leading to impactful root crop production through the development of innovative and resourceful products, root crop varieties, safe and nutritious feeds/ foods.
Our goal is to be a leading training and research centre in facilitating sustainable root crop development; strengthening the weak link and cooperation between agro based industries and farms on one hand and the research institutions on the other hand to produce required synergy needed for sustainable development.
Introducing new specialized postgraduate programmes leading to Masters and Doctorate degrees in Agriculture and root crop development.

Expanding the competence in solving Agricultural/root crop problems in Nigeria and West Africa sub-region through capacity building of faculty, students, industry stakeholders, parastatals and farms.

Acting in synergy with the mother institution in establishing innovation platform for knowledge flow and collective dialogue between farms, researchers, related industries, Agricultural Business and Higher Educational Institutions.

Development of Centre of Excellence as a training hub for root crop research and development in Nigeria and African-Sub-region.

Develop the next generation of Scientists, Researchers, Engineers, Entrepreneurs and product developers in root/tuber crops.

Establish start-up Agri-technological companies borne out of research activities in the University.